It's Officially Summer!
"Many surfers ride summer and winter but the ultimate thing for most of us would be to have an endless summer.
The thrill and the fun of the sport of surfing. Some people like to body surf. Others like to ride a short belly board, and get a short ride. Still others like a short belly board and a long ride… Most surfers like to ride a regular board and perform on medium size waves. Most would like to perform as well as Australian Nat Young. Or as well as American surfer Butch Van Artsdale. Some surfers prefer the hairy thrill of a big wave. You can go right or left, but you very well can't go both at once.
If you do it is something commonly known in the surfing world as a wipe-out. The only way to avoid a wipe-out is to take this wide, stink-bug stance, spread your legs and hang on till your trunks rip, right up the back!!" – The Endless Summer (1966)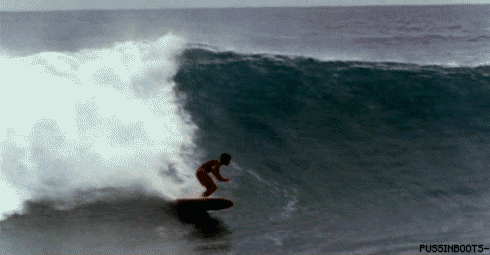 "I have gone to Fins a few times and honestly have yet to have a bad experience.  I tend to get the burritos and my absolute favorite is the S-Turns.  I love the combination of the Coconut and grilled pineapple.  They also use Sriracha on the burrito which is a huge plus.  Funny they also have Sriracha on the tables and this was the place that introduced me to the legendary sauce!
My most recent visit I got another S-Turns and was greeted by the staff upon entering the restaurant.  They are always nice and helpful and just generally laid back.  Ultimately if you are looking for something tasty and different in the now overcrowded burrito land that we live in then Fins might just be your place.  Whenever I am in the area this is the first place I think of and it's always because they have a menu that really gets me.  I also really like the Flyin Hawaiian Burrito and the mix of Thai BBQ chicken and all the fresh veggies like Avocado.  I will admit they are a little more expensive but I've never walked away not satisfied.  Give this place a visit next time you are in the area."
– Yelp review  
Thank you Mike I. for the awesome feed back!!!!!   
(Show us your review and we'll bribe…we mean,
give you $5 FINS Bucks!!!)
Keep the reviews coming!!

Call up your favorite FINS location to collect!!!!
 (Up to a $10 value. Not to be combined with any other offers or coupons)

Say the "WORD"
Buy 1 Buritto get the second, of equal or lesser value, 1/2 OFF!!!
Spread the WORD, and share the love.
After all, isn't that what it's all about?!

In ancient times, solstices and equinoxes were important in guiding people to develop and maintain calendars, as well as helping them to grow crops. It was important for many people, especially those who spent a considerable amount of time outdoors, to understand the seasons and weather, which played a key role in their lives. Over the centuries, the June solstice was a time when
festivals, celebrations and other festivities
were celebrated.
For SURFRIDER Foundation information