Happy Independence Day!
On September 14, 1814, U.S. soldiers at Baltimore's Fort McHenry raised a huge American flag to celebrate a crucial victory over British forces during the War of 1812. The sight of those "broad stripes and bright stars" inspired Francis Scott Key to write a song to the tune of "To Anacreon in Heaven," a popular English song, that eventually became the United States national anthem.
On Mach 3rd, 1931, President Herbert Hoover signs a congressional act making "The Star-Spangled Banner" the official national anthem of the United States. Key's words gave new significance to a national symbol and started a tradition through which generations of Americans have invested the flag with their own meanings and memories.
Explore the flag that inspired the National Anthem to discover stories about its creation, history, and preservation HERE !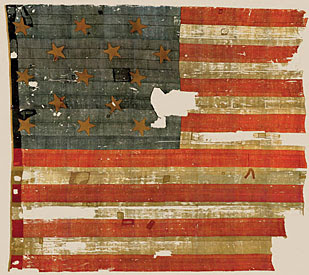 (This is the flag that inspired Francis Scott Key to write our "Nation Anthem")
"We stumbled upon Fins while vacationing in the area. We enjoyed a late lunch. The decor is beachy, tropical, cute. You order from the counter and they bring the food over to you. There was plenty of seats inside – and several tables outside on the sidewalk. I enjoyed shrimp tacos and my husband enjoyed white fish tacos. It was a nice portion – with tortilla chips and fresh salsa on the side. It's a pretty unassuming beach joint but the food quality was fresh and tasty. The establishment was very clean and the servers were young, but very polite. We wouldn't hesitate to return."
– Trip Advisor review  
Thank you  for the awesome feed back!!!!!   
(Show us your review and we'll bribe…we mean,
give you $5 FINS Bucks!!!)
Keep the reviews coming!!

Call up your favorite FINS location to collect!!!!
 (Up to a $10 value. Not to be combined with any other offers or coupons)

Say the "WORD"
Get a FREE Fountain Beverage with any purchase!
Spread the WORD, and share the love.
After all, isn't that what it's all about?!

John Adams believed that July 2nd was the correct date on which to celebrate the birth of American independence, and would reportedly turn down invitations to appear at July 4th events in protest.
Adams and Thomas Jefferson both died on July 4, 1826–the 50th anniversary of the adoption of the Declaration of Independence.
For SURFRIDER Foundation information
  Sit Back – Relax – UnWind – Enjoy!