Merry Christmas & Happy Holidays From FINS!
Dear Jennifer,
MERRY CHRISTMAS & HAPPY HOLIDAYS!!  
From all of us at FINS!
"Five yummy Gingerbread,
Sitting on a plate,
The first one said
"Boy, we smell so great!"
The second one said
"There's a chill in the air."
The third one said
"I see hungry children everywhere!"
The fourth one said
"I think we better run!"
The fifth one said
"Here the children come!"
Then the children each grabbed one
and with a MUNCH, CRUNCH, MUNCH,
the five yummy ginger breads all turned into lunch!"
– Dawn De Lorenzo 
Shrek Moments – "Interrogating Gingy"
ALSO, Don't miss out on our Holiday Gift Card Specials!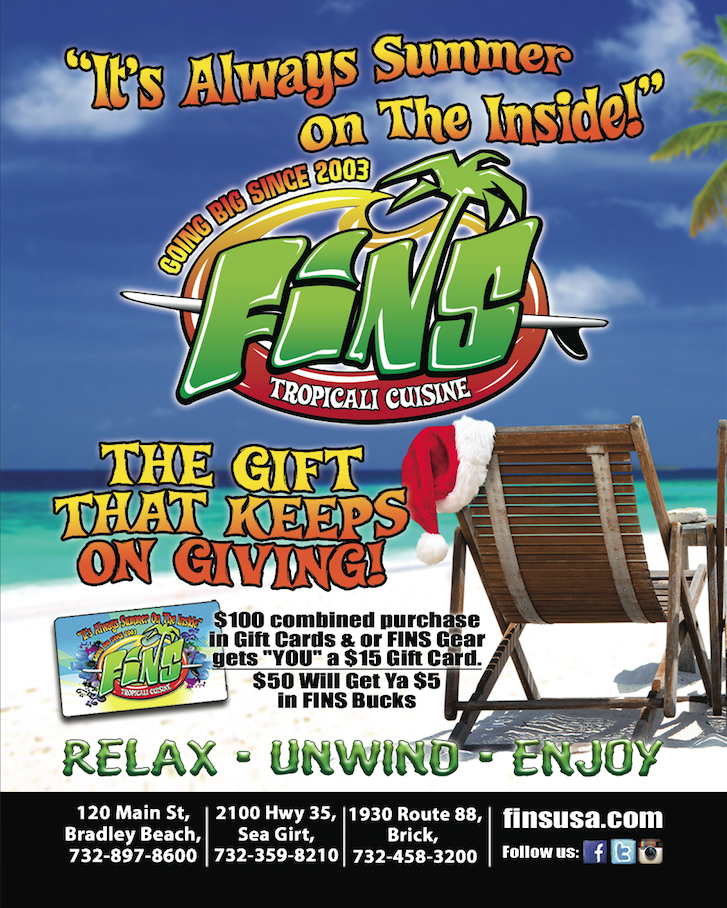 *All 3 FINS locations will now be LIVE streaming the ASP World Tour Surf Events! Keep a lookout on our social media pages to know about all promotions going on the during the live events! You don't wanna miss out!
"I can always depend on FINS for a nice meal. Love their Mini Fins and Nachos A La Fud the most. Have not had something on the menu that I did not like."
– Yelp Review  
Thank you Ris for the awesome feed back!!!    
(Show us your review and we'll bribe…we mean,
give you $5 FINS Bucks!!!)
Keep the reviews coming!!

Call up your favorite FINS location to collect!!!!
 (Up to a $10 value. Not to be combined with any other offers or coupons)

MAKE SURE YOUR FRIENDS AND FAMILY ARE SIGNED UP FOR THE FINS E-MAIL LIST SO THEY TOO CAN GET THE SECRET WORD AND PROMOTIONAL UPDATES!
For SURFRIDER Foundation information